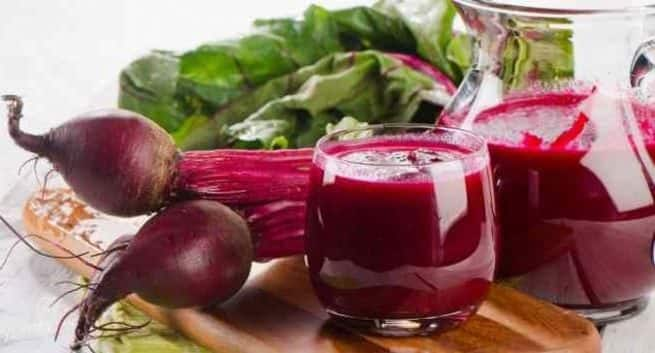 There are two types of people in this world – those who like beetroot and those who don't! The taste of beetroot may be really appealing to some, while some others may get completely put off by it. The fact remains that beetroot is highly nutritious and whether you like the taste or not, you have got to eat it. According to a recent study, eating vegetable nitrates which are found mainly in green leafy vegetables and beetroot, can cut down the risk of developing early-stage age-related macular degeneration, which can be termed as an eye disease resulting into vision loss. Besides that, it can help beat inflammation, control blood sugar and blood pressure and can cleanse your liver. It's full of iron. Here are some yummy ways to include beetroot in your diet.
Quinoa, beetroot and orange salad
Ingredients
Quinoa – 50 gm
Hot water – 150 ml
Beetroot – one small
Fresh orange – one
Assorted lettuce – 100 gm
Olive oil – one tbsp
Balsamic vinegar – one tbsp
Roasted almond – 2 gm
Salt and pepper to taste
Method
Take a bowl, put 150 ml of hot water, soak the quinoa for 10 minutes, strain it and put it in a fresh bowl. Add some seasoning like olive oil, balsamic vinegar. Put assorted lettuce mix it properly, and then put it in a fresh serving plate. Take the beetroot, cut into small cubes, and marinate with seasoning salt pepper and balsamic vinegar and olive oil. Put these in the same plate of quinoa and top up with peeled orange slice.
Recipe by Ciclo Cafe's culinary head Mrinmoy Acharya
Beetroot and tofu kebab
Ingredients
2 medium-sized beetroots
1 cup of tofu 3-4 cloves of garlic
1 teaspoon of finely chopped ginger (adrak)
1 teaspoon of garam masala
1/2 teaspoon of chilli powder
2 tablespoon of chopped coriander (dhania)
1/4 teaspoon of turmeric powder (haldi)
1 tablespoon of oil for cooking
Salt to taste
Method
Add finely grated beetroot in a bowl. Now, add fresh, soft tofu to the bowl.
Add finely chopped garlic and ginger to the mixture of beetroot and tofu. Also add turmeric powder, garam masala and chilli powder to the mixture.
Mix all the ingredients properly. Now, add finely chopped coriander leaves and salt to taste before mixing again. Ensure that the mixture can be rolled out into small balls.
Divide the mixture into small balls to make round patties. (You can choose any shape and size). Shallow fry patties on a flat pan over medium heat till it turns golden brown in colour.
Garnish with fresh coriander leaves and serve hot with green chutney or tomato ketchup.
Beetroot laddoo
Ingredients:
2 cups grated red beets (steamed)
2 cups freshly grated coconut
1 cup dry dates powder (buy dry dates and powder them)
1 tsp cardamom powder
A pinch of salt
Almonds/pistas for garnish
Method:
In a warm pan, add coconut flakes and grated beets.
Mix well and cook till tender and the juice evaporates.
Add dry dates powder and cook for another 5 to 7 minutes.
Remove from heat and as it cools slightly, shape into balls.
Garnish with almonds or pistas.
Enjoy your laddoos.
Beetroot ketchup
Ingredients for beetroot ketchup
▪ 2 cups cubed and cooked beetroot
▪ 1 tomato
▪ ¼ cup water
▪ ¼ cup vinegar
▪ 2 tbsp brown sugar or jaggery
▪ 1 bay leaf
▪ ½ red onion
▪ pinch of salt and pepper
Method for beetroot ketchup
1) Heat all ingredients over a medium flame in a saucepan until all the liquid has thickened.
2) After letting it cool for a couple of minutes, blend the mixture until it has a smooth ketchup-like consistency.