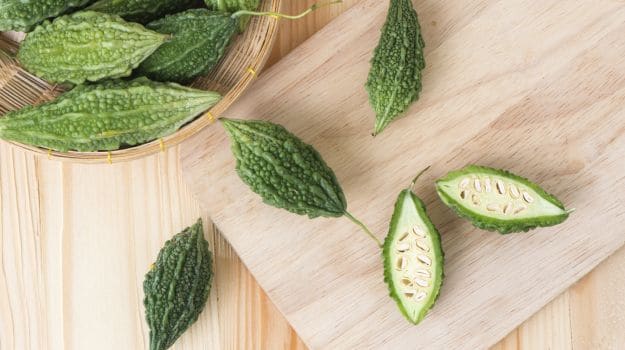 Picture this. You have been slogging all day in the office, and nothing much is going right for you. You eagerly wait for the lunch hour expecting it to be a silver lining and open your lunch box to 'Karele ki subzi'. And, there you are. Having confirmed that there is nothing that can save the doomed day. But, does the humble bitter gourd really deserve all the wrath. You may not like the bitter veggie in one of it's preparation, but should that make you eliminate the healthful veggie from your diet altogether? We do not think so. Karela, or bitter gourd, may not have the best of reputation in the culinary world. One does not only need to develop a taste for these lovely bitters but also innovate and experiment with it to really appreciate the gourd vegetable in all its glory. Bitter gourd contains a range of nutrients like iron, magnesium, potassium and vitamin C.  In addition to these minerals and vitamins, it is also an abundant source of dietary fibre. The fibre present in bitter gourd helps maintain blood sugar levels, which makes it an excellent food for diabetics and even aid effective weight loss. Bitter gourd also has antiseptic, blood-purifying properties, according to Ayurveda. It is a miraculous tonic to rev up immunity system, cleanse liver and manage insulin levels too.
Here Are Some Yummy Ways To Include More Karela To Your Diet
1. Karela Chips
Ditch your fried, oil laden and fattening chips for the healthier baked bitter gourd chips. And, trust us you are going to love this! For making baked karela chips. Preheat the oven to about 375F. Now, wash the bitter gourd and slice them carefully into thin round slices. Marinade the chips with salt, turmeric powder and chilli powder for about half an hour. Spread foil on a baking tray and grease it with about a tbsp oil. Bake for about 5 minutes. Your karela chips are ready. Munch away!
2. Karela Parathas or Theplas
Is your little fussy eater giving you a tough time with eating karela? Sneak it into a crispy paratha or thepla and he would not even know! Karela parathas go best with curd and almost any gravy. Knead a nice dough of wheat flour. For the stuffing take a cup of finely chopped bitter gourd, a tablespoon of tamarind, a teaspoon of fennel seeds, half a cup of finely chopped onions and a bit of chilli powder. Add salt to taste and mix it well. Stuff the delicious karela filling in the dough and roll out yummy parathas.
3. Shukto
Shukto makes for a delicious accompaniment with bhaat (rice), dal and maach (fish) in a typical Bengali lunch. A quintessential Bengali spread is rich medley of bitter, sweet, chilli and spicy flavours. Shukto is a bitter and pungent stew of vegetables cooked in mustard oil and spiced with paanch phoron (mix of five spices), ginger paste and chillies. Along with bitter gourd, other veggies that find its way in the wholesome stew are drumsticks, raw papaya, brinjal, teasel gourd, pointed gourd, green banana, bamboo shoots, banana stem, sweet potato. Here's a recipe of shukto you can try at home.
A very popular bitter melon preparation, bharwa karela is bitter gourd stuffed with an aromatic mix of spices. The method and preparation could prove to be a tad cumbersome, but the final product is absolutely worth it. Here's a delicious recipe that could help you prepare the rich dish on your own.
5. Pavakka  Kichadi or Pavakka Pachadi
There's a reason why Malayali cuisine is such a hit amongst foodies. It's versatility and making most of its seasonal produce has to be one of the major reasons of its popularity. Pavakka Kichadi, also known as Pavakka Pachadi, is one of the most loved Vishu Sadya and Onam preparations. Stir fried bitter gourd cooked with yogurt and a mix of lovely spices like cumin seeds, red chillies, curry leaves and shallots.
The bitter taste of bitter gourd could get tad overwhelming, but the trick lies in balancing it out with other flavours. All these dishes are a specimen of just that. Do you have more interesting ways to add more karela to your diet? Do share with us in the comments section below.