The members of the TMC and AIADMK in the Rajya Sabha today expressed concern over the issue of different questions papers given to students who attempted the NEET on May 7 from West Bengal and Tamil Nadu.
The common medical entrance examination was held in 10 languages including Bengali and Tamil.
The issue was raised during the Zero Hour by TMC's Derek O'Brien. He said till 2013, the English question paper for the medical entrance examination, NEET (National Eligibility cum Entrance Test), used to be translated into regional languages.
But this year, those attempting NEET in Bengali or Tamil got question papers that were entirely different, he said, adding that 40,000 of the 56,000 students who wrote the exam in Bengali or Tamil had "disastrous" results. The HRD Ministry has a lot to explain on the issue, he said.
"NEET exam is not a West Bengal issue. It is a federal issue," he said. He was joined by AIADMK members who demanded to scrap the applicability of NEET to Tamil Nadu. A Navaneethakrishnan (AIADMK) said a uniform NEET syllabus should be introduced first.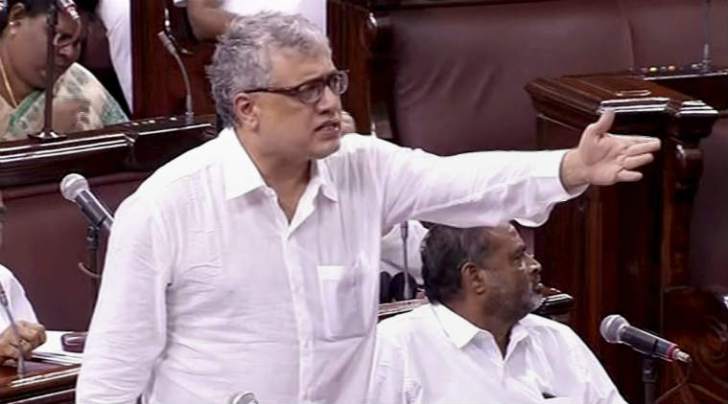 Both TMC and AIADMK members wanted the government to respond, but with no word coming from treasury benches, they rushed into the Well of the House raising anti-NEET slogans. Deputy Chairman P J Kurien said he had allowed Drek O'Brien to speak because he had given a notice under rule 267 that seeks suspension of listed business to take up discussion on the issue, and allowed the AIADMK members to mention and the issue has been understood. "Now go back to your seats," he said.
Reacting to the issue, Health Minister Jagat Prakash Nadda said the issue was under examination of the government. "We are looking into the matter," he said. Members then returned to their places and the House resumed normal functioning thereafter.
Yesterday, the Union minister of Human Resource Development  Prakash Javadekar assured that the question papers in vernacular languages will be a mere translation of the question papers in English.