A model seated on the steps of the display area at Delhi's Lodhi Hotel, dressed in a voluminous red gown with the 'Make in India' lion motif embossed all over, set the tone for designer Manav Gangwani's show 'India @70' on the second day of India Couture Week. "This is the 70th year of India's Independence and my show is bringing together all that India is," said Gangwani.
Staying true to the theme, Gangwani showcased a mammoth 70-ensemble collection on a 400-metre-long ramp that ran alongside a pool, and presented a mix of gowns, dresses, saris and anarkalis. We saw a heavy usage of a variety of motifs that included a Kathakali dancer's face as well as that of Indian deities such as Durga, Krishna, Ganpati and Saraswati. Indian dance forms like Bharatanatyam and Kathak also marked their presence on the outfits.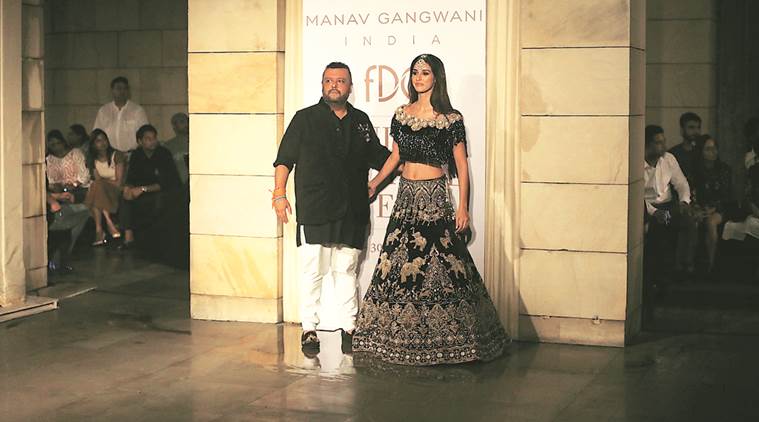 Then there were Mughal miniatures of emperor Shah Jahan and queen Mumtaz, which were digitally printed on the outfits. The façade of Jama Masjid, too, made its way to the back of a cape. "I started down south and picked Kathakali from there, took Jamavar from Kashmir and had a stopover in Rajasthan where I narrowed down on the bandhani. To represent Delhi, we had the Mughal series. I have included chikankari, dabka work and gota patti there," said Gangwani. The highlight of the show were tassels and fringes that Gangwani used in every way possible — from sari borders to embellished shoulders so as to enhance the silhouettes of the dress.
The showstopper of the evening, actor Disha Patani, wore a black fit-and-flare skirt which had elephants, horses, camels and lions intricately embroidered all over it and paired it with a fringed crop top. Rich silks, textured brocade and velvet dominated the collection in colours of white, hues of green, black and royal purple with traditional pinks, warm red and orange. Gangwani threw in a little bit of everything into the mix, much like his muse for the show: India.