Can you resist when the aroma of the French toast, custard tarts, chocolate waffles, pancakes and caramelised apple omelette fills you? French cuisine is best known for its finesse and flavour that makes it unique from the global dishes. To inculcate the art of cooking French dishes, chefs from France flew in all the way to Delhi to hold masterclasses for passionate individuals and industry professionals at Vivanta by Taj from June 20 to June 22.
Celebrated chefs Franck Geuffroy and Jeremy Delteil not only doled out tips on pastry techniques, ice-creams and frozen entrenchments, chocolates, bars and bonbons, but also revealed their recipes for a delectable range of French tea-time delicacies such as Lemon Tartlets, Madeleine, Panna Cotta, Peanut and Pecan Paris-Brest, Strawberry Waffles, Traditional Macarons, and Yellow Fruit Financiers.
Designed to delight professional chefs with training, the workshops helped a great deal in bringing the cuisine to the table. Shedding light on the workshop, Kanika Hasrat, the general manager of Vivanta by Taj, Dwarka, told IndianExpress.com: There were two kinds of workshops — one was based on the art, technique, and trends of pastry making, and the other one was held to teach culinary art."
"One thing that the chefs stressed on was "natural" substances and told the importance of using local ingredients. What we really learned from them is the nuances of cooking, the tricks of the trade and the tiny details which can really upgrade the standard of presentation as well as the taste," she added. French dishes are considered high-end cuisine and people don't relate to it on an everyday basis, and the workshops paved the path to break away from the normal thought-process.
The experienced chefs, who came as part of a collaboration with Ducasse Education also spoke a great deal about the global food trends and the intermingling of Indian and French food habits.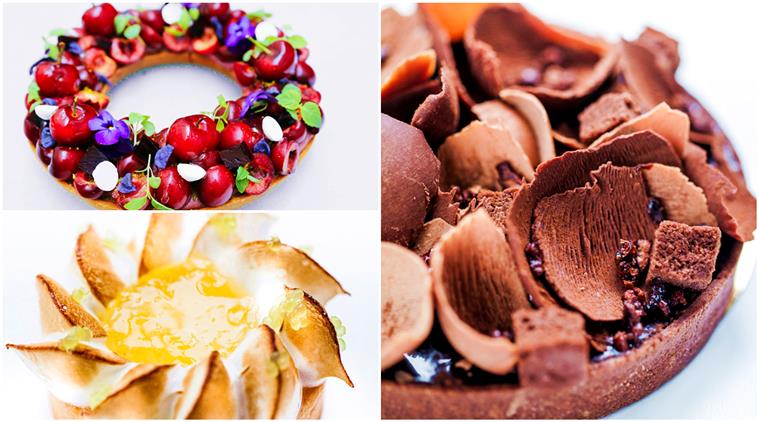 Do you crave for frozen entrenchments, chocolates, bars and bonbon? (Source: Pierre Monetta)
Disclosing the global food trends, Geuffroy told IndianExpress.com, "Chefs are using the products that are already present in the local markets or are naturally produced in the season. What's important is to not look for mass production or fruits that are out of season and supporting local shops instead. Moreover, using vegetables without chemicals is one the main tendency that should be adopted."
Is Indian food popular in the global market and what is the one food item here that baffled them?
"You shouldn't go looking for Indian food outside in the markets," Geuffroy told IndianExpress.com, adding, "India is very proficient in adding spices and looking for very complex flavours and in that sense, France has a lot to learn from India. That's how we hope to enrich ourselves in the future." Spilling the beans on the food item that surprised him, he revealed, "I tasted paan in Aurangabad… and at first, I wasn't quite getting the flavour. It was only after a bit that I understood, and was astonished with the explosion of different tastes in it."