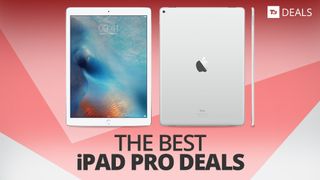 The iPad Pro range from Apple represents the best that iPad has to offer, from slim design to the best screens and the most powerful internal components.
Both iPad Pro versions represent the crème-de-la-crème of the tablet market, if you like. If you want the best tablets money can buy, it's probably an iPad Pro that you want as both models include features you won't get in any other device.
For a start they use ambient light sensors to detect the level of light in the environment and adjust the screen accordingly – this all works separately to the new Night Shift mode which adjusts the amount of blue light emitted by the display late at night to help your pending sleep. And these being Pro-level tablets, both have support for the Apple Pencil stylus as well.
The latest 9.7-inch iPad is the most expensive but also by far the best 'regular' iPad ever
If you want a regular sized iPad – that would be 9.7-inches – and you want the best there is, the iPad Pro 9.7 is your huckleberry. It's the most powerful iPad there is, sporting a stunning screen and all sorts of other clever features never before seen in an iPad. This is by no means the cheapest iPad out there, being the very latest model, but if it's the one for you you'll find the cheapest deals below!