In the excitement to be the first to spot the moon on chand raat, we would all run around in the lawn or on the terrace and sometimes even lie about having seen it," says author and historian Rana Safvi. Filled with nostalgia, she recalls that Eid-ul-Fitr celebrations during her growing up years were a homespun affair. "Unlike Eid-ul-Zuha which is a sacrifice feast, Eid-ul-Fitr is celebrated after the trying month of Ramazan that teaches one to control one's basic instincts. The triumph is then celebrated with a feast of sevai and other delicacies," says Safvi. In her house, the women rustled up the traditional sevai while the men offered namaz, and the children eagerly awaited their share of eidi — a token gift given by the elders of the family.
Though the tradition continues, Safvi rues the change it has undergone in recent times. "Eid was one of the few occasions when we used to get gifts from our parents. Now, with an increase in the purchasing power, these gifts don't mean as much."
But what has remained unruffled by time's passage is the Eid feast. Food entrepreneur and author Sadia Dehlvi recounts in her new book, Jasmine and Jinns: Memories and Recipes of My Delhi, the extravagant spread of Eid staples such as biryani, qorma, shaami kebab, dahi badey and sevai that the family would enjoy. "My aunt would make Aam Pulao with fresh sarauli mangoes. It's a traditional recipe but few make it these days. I inherited the recipe from her and now I make it in addition to the traditional sevai," says Dehlvi.
Indispensable to Eid-ul-Fitr is sheer qorma or vermicelli pudding which is served to guests who pass through the house, throughout the day. Historian Sohail Hashmi hosts about 50-60 people on Eid. "Sheer khurma and dahi badey are the main dishes that are served to those who visit us on the festival. They are also sent to neighbours, so naturally, the two dishes are made in abundance. The khurma is made with semolina vermicelli which we procure from Benaras because that is where the finest semolina vermicelli is found," says Hashmi, "Incidentally, the dahi badey ka masala that we make at home is the same as the one that Mithan Halwai in Kashmiri Gate uses. When my grandmother was leaving for Pakistan, she told the halwai that his dahi badey would be greatly missed. In
an act of generosity, he shared his recipe with her that she later passed on to my mother, when she came to visit my parents in Delhi."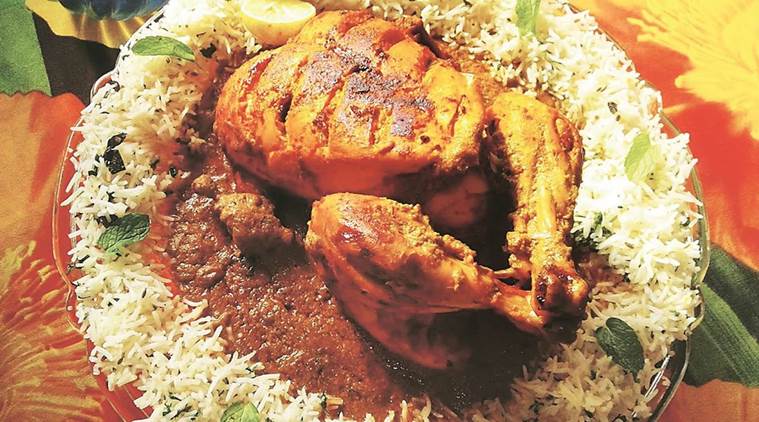 Murg Musallam (Representational image)
Murg Musallam:
Ingredients:
Chicken, plucked and cleaned from inside
Ground onion paste 250 gm
Finely diced onion 1
Ginger garlic paste 2 tbsp each
Dhania powder 2 tbsp
Thick curd 1 cup
Garam masala 1 tbsp
Salt, chilli powder to taste
Method:
– Marinate chicken overnight in a marinade of ginger-garlic paste, ground onion paste, dhania powder, curd, garam masala, salt and chilli powder.
– Heat oil in a shallow lagana or kadhai where the full chicken can easily fit in.
– Pour in 1/2 cup oil
– Fry 1 finely diced onion in the oil till golden.
– Put the chicken on top of it and let it cool on each side for 15 minutes.
– Use two big spoons to turn it over to keep it intact.
– When done remove chicken on to a flat serving dish.
– Pour the roasted marinade on top.
– Garnish with sliced boiled eggs.