Hansel Vaz is looking forward to the day when tipplers will keep a bottle of feni next to their Johnnie Walker. He would, of course, love it if the bottle were from his own brand. Vaz calls himself a feneiro, a word he coined to describe a new generation of feni-makers like him.
Two years ago, however, at Goa's annual fair, his goal seemed laughable. Vaz, 33, had pitched a lone feni booth at the Summer Carnival, hoping to draw in the Goan crowd with his feni cocktails. He managed to sell an embarrassing 15 glasses in five days. This February, 620 cocktail glasses went off the bar counter at the same fest. The millennials turned up, lured by test-tube shots of feni, served by waiters dressed as mad scientists.
This is a season of mellow fruitfulness for feni. After many failed summers, a rich cashew-apple crop has been harvested. More importantly, the central food and drug administration has scrubbed the drink clean of the "country liquor" tag and classified it as "heritage liquor". That makes it possible for feni now to be sold at neighbourhood liquor shops and marts across the country. Till now, you could only buy feni in Goa, making it an exotic souvenir that did not travel well across the state borders. It was allowed to be exported to Canada, but not sold inside the country, even in Maharashtra.
"I will be drafting letters to my counterparts across the country. We are bottling our state's culture and now we want others to taste it too. They should and will be able to buy feni at liquor shops in their neighbourhood," says state excise commissioner Menino D Souza.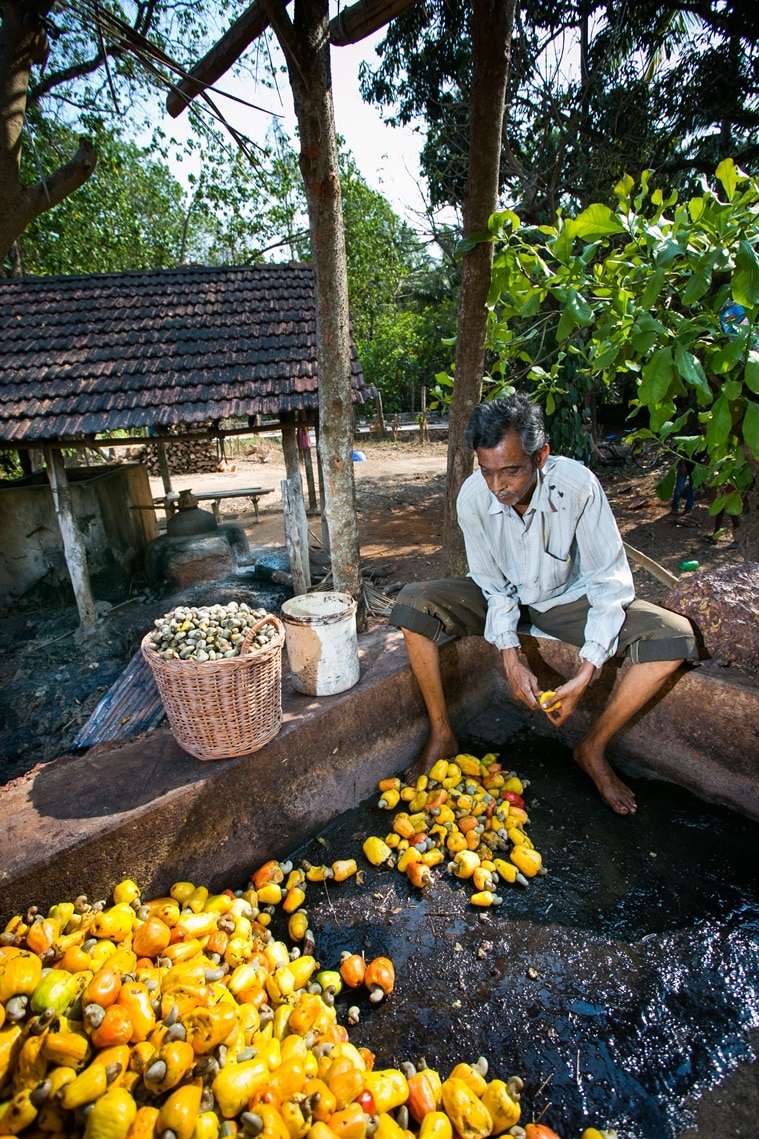 High and happy: This year has seen a rich harvest of cashew fruit. (Source: Hansel Vaz)
A clutch of Goa's feni-makers has been waiting for just such an opportunity. Distillers like Vaz have been tweaking the drink's aroma, taste and strength, tamping down its strong notes, and playing up its cultural wealth to make it a drink whose time has come.
"Every drink has managed to fashion an etiquette around it. Feni somehow has been associated with Goan late-night gatherings, friends gossiping at the village square, or a family brought together by music and food," says Vaz, who lives in Margao. But, for all its ubiquity, feni never had any myths woven around it, no stories that made it a product of cultural aspiration. "You never spoke about feni. You just drank it. We want to change that. Retain the habits, but give it a status. Every drink has evolved to encourage new ways of drinking," says Vaz.
His family is the maker of Brand Cazulo, a premium double distilled feni — the first premium feni to be sold at Rs 500 a bottle. Till Cazulo hit the market, no one had priced feni so high. You could get a bottle for less than Rs 100.
Vaz will soon open an artisanal distillery in Margao to educate people in the rituals around feni — stomping the cashew fruit, studying the temperature of the distilled liquid, heating it in earthen pots. Locals and tourists will be shown the Portuguese-era wide bellied bottles in which the liquor is traditionally stocked for at least a year. The aim is to do to feni, what the Europeans did to their wine, he says.
The pricing and the packaging are helping sell the drink, says Dilip Shetye, owner of Case Xetio Wines in Panjim. "Earlier, feni was cheaper than whiskey. These refined fenis are now around Rs 500 to Rs 1,000. So this year, tourists have started paying attention to the drink," he says.