Within seven months of the final insolvency rules kicking in under the Insolvency and Bankruptcy Code 2016 (IBC), over 237 applications have been filed by financial creditors against defaulting companies for initiating corporate insolvency resolution process and admitted in various benches of the National Company Law Tribunal (NCLT).
According to data analysed till June-end, a total of 129 corporate insolvency applications were admitted with the Mumbai bench of the NCLT, while 58 applications have been filed with three benches of the NCLT in Delhi. Ahmedabad bench of the NCLT accounted for 15 insolvency applications, while seven cases were admitted with the Allahabad bench.
Notwithstanding the focus on 12 large accounts that the Reserve Bank of India (RBI) has advised for being referred for resolution under the IBC, the data from the NCLT benches at 10 locations show the rising pace with which financial creditors and companies are filing for insolvency resolution under the new bankruptcy law that was enacted only last year.
From admission of seven cases under the IBC in January by various NCLT benches, the number has now gone up to 87 in June. On a quarterly basis, 202 cases were admitted in April-June, as compared with 35 in January-March, according to data collated from NCLT benches at 10 locations. The cases have been filed by financial creditors such as banks, asset reconstruction companies, non-banking finance companies as well as companies or corporate debtors themselves.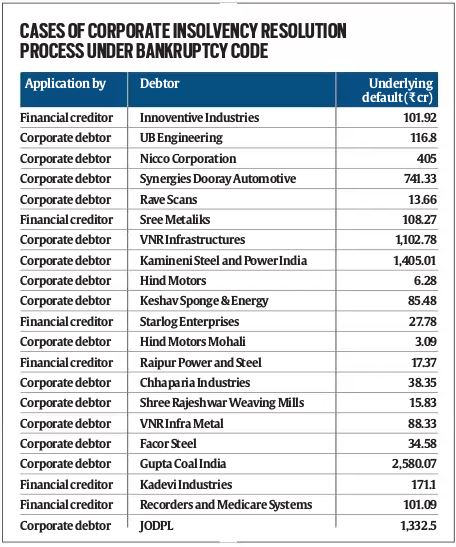 The 10 NCLT benches are in New Delhi, Ahmedabad, Allahabad, Bengaluru, Chandigarh, Chennai, Guwahati, Hyderabad, Kolkata and Mumbai, with each of these having jurisdiction over multiple states. The 12 troubled companies being referred to NCLT by the RBI — including Jyoti Structures, Bhushan Steel, Monnet Ispat and Electrosteel Steels, Amtek Auto and Era Infra Engineering — account for a combined debt of around Rs 2.5 lakh crore.
As regards the non-performing accounts other than the large 12 cases, the RBI's internal advisory committee suggested that banks should be required to file for insolvency proceedings under the IBC for these accounts in case banks are unable to agree upon a viable resolution plan within six months. The government is expected to increase the number of NCLT benches in order to deal with enormity of loan default cases, while analysts expect the pace of insolvency applications to gather pace going forward.